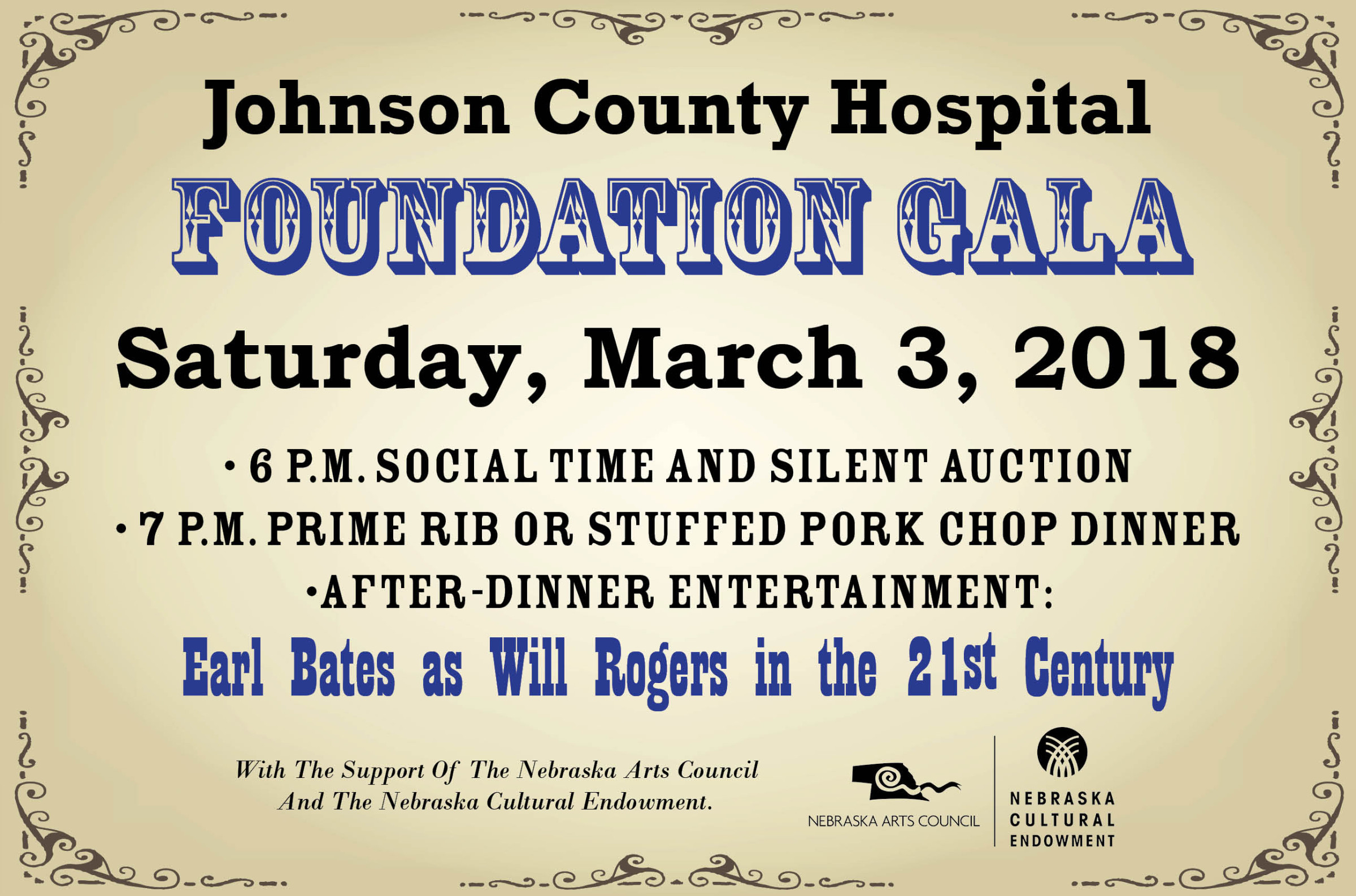 Enjoy a night out while supporting Johnson County Hospital
Howdy pardners! Dust off your boots and please join us for our 6th Annual Johnson County Hospital Foundation Gala at the Hartman Cattle Company just outside of Tecumseh. Social and Silent Auction begins at 6 p.m. Dinner is served at 7 p.m. This year attendees have a choice of Prime Rib or Stuffed Pork Chop. (Choice must be made at time of ticket purchase.) This comes with a salad, green beans with bacon, cheesy potatoes and cheesecake for dessert. Two glasses of wine or beer are included with the meal. Tickets are $60 each.
Earl Bates as Will Rogers in the 21st Century will provide entertainment after the meal. Will Rogers in the 21st Century takes a wry look at our world through the bewildered eyes of beloved cowboy philosopher Will Rogers. Eighty years after his tragic plane crash, Will (Bates) finds himself in the PRESENT DAY as he time travels through America's pop culture. Using classic and familiar songs to illustrate his points, he recalls the Vaudeville past, pokes fun at the present and hopes for the future.
(Directions to Hartman's: 3 miles north of Tecumseh on Highway 50, then 2 miles west on Highway 41. At the Hartman Cattle Company sign turn north and drive for less than 1/4 mile. The Hartman building is on the west side of the road.)
Proceeds from this year's Gala go towards purchasing a C-arm X-ray machine for the hospital's new surgical suite.
Space is limited. Contact Michelle Sullivan for more information, msullivan@jchosp.com or 402-335-6366
This form stopped accepting submissions on March 1, 2018 2:00 pm CST.